Handicapping The 2012 Home Run Derby

Editor's Note: This article was updated on July 9 at 6:47 AM EST to reflect the addition of Pirates OFer Andrew McCutchen to the derby lineup as a replacement for Marlins OFer Giancarlo Stanton.
The 2012 Home Run Derby has a lot of new faces, but two defending champions are stepping up to the plate for the American League with a great chance of repeating as champs in 2012. Fantasy baseball superstar Matt Kemp will captain the National League team, and 2012 winner Robinson Cano will head up the American League team. Of the eight participants in this year's competition, only three have previously appeared in the Derby before – along with Cano, 2009 winner Prince Fielder, Kemp, and Jose Bautista are the only other two.
The Full 2012 Home Run Derby Lineup, With Season HR Totals
Jose Bautista, Toronto Blue Jays, 27
Mark Trumbo, Los Angeles Angels, 22
Carlos Beltran, St. Louis Cardinals, 20
Robinson Cano, New York Yankees, 20
Andrew McCutchen, Pittsburgh Pirates, 18
Carlos Gonzalez, Colorado Rockies, 17
Prince Fielder, Detroit Tigers, 15
Matt Kemp, Los Angeles Dodgers, 12
Like last year, Kemp and Cano could pick players for their team without regard for whether or not the players are All-Stars. Both AL and NL homer totals will be added up to determine a winning team, captain, and charity. But don't worry – there will still be an individual winner. Otherwise, the scoring format of the tournament will be the same as last year.
For the second straight year, Joey Bats is at the top of the list of favorites with only 5 – 2 odds. But why? In his first Derby experience, he only hit 4 home runs and failed to make it out of the first round. What's worse, he's only hit 2 homers in 64 plate appearances at Kauffman Stadium.
I respect Bats' homer swag, don't get me wrong — but it doesn't seem like there's any justification for him being the odds on favorite.
2012 Home Run Derby Participant Odds
Current Oddsmaker.com odds for Monday night's Home Run Derby, sorted from the favorite to the longshot. Last update: 7/9/12 at 6:43 AM EST:
Bautista: 5 – 2
Cano: 3 – 1
Trumbo: 4 – 1
Fielder: 4 – 1
Kemp: 5 – 1
Beltran: 5 – 1
Gonzalez: 6 – 1
McCutchen: 8 – 1
One of the benefits to hitters on both sides of the plate is Kauffman Stadium's symmetrical outfield dimensions. The wall starts at 330 ft in both left and right field, extends to the 387 ft at the gaps, and is 410 to straight-away center. With the field not providing any distinct advantages to lefty's or righty's, you should probably be wondering how many plate appearances and home runs each contestant has hit in Kauffman Stadium? Read on.
Bautista: 64 plate appearances / 2 home runs
McCutchen: never played in Kauffman Stadium
Cano: 115 AB / 3 HR
Kemp: never played in Kauffman Stadium
Trumbo: 25 / 1
Fielder: 24 / 0
Beltran: 1568 / 61
Gonzalez: 4 / 0
So, after all of this data analysis, who do the stats lead us to believe is actually gonna win this thing? And who are we saying you should put your money behind for the 2012 Home Run Derby? Find out AFTER the jump…
Who we like in 2012: Mark Trumbo.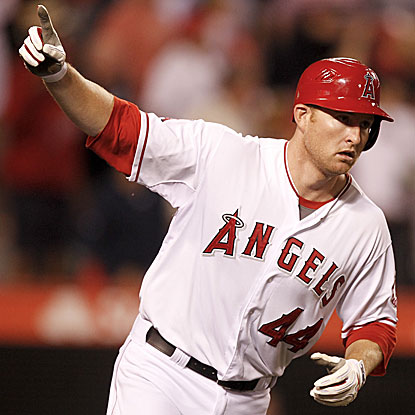 Why Will Mark Trumbo Win The 2012 Home Run Derby?
Sure, he's only hit one HR in 25 ABs at Kauffman Stadium, but Trumbo has the perfect home run ratios to indicate he will be successful in this year's competition. Only 15% of his bombs this season wouldn't clear the wall at Kauffman Stadium if he played there everyday. He's only hit 45% of those home runs in LA, so he can hit the ball out when he's on the road, too.
Check out Trumbo's 2012 home run landing spots below, with Kauffman Stadium as an overlay. plus get some more insight from us on who his top competition will be after the pic!

Based on their 2012 home run landing spots, look for Joey Bats, McCutchen, and 2009-winner Prince Fielder to be the top contenders after Trumbo. Want some interesting stats on the other participants and why they won't win the Derby:
CarGo has hit 71% of his homers in the friendly confines of Coors Field
A defending champion hasn't won the Derby since 1999, so Cano is likely out
50% of Matt Kemp's homers didn't have enough true distance to clear the fences at Kauffman Stadium
Beltran has hit 60% of his home runs at Busch Stadium
So, what do you think? Who's going to win the 2012 Home Run Derby? Let us know in the comments below!
Comments
comments