Hey Hey Hey its Phat Albert Again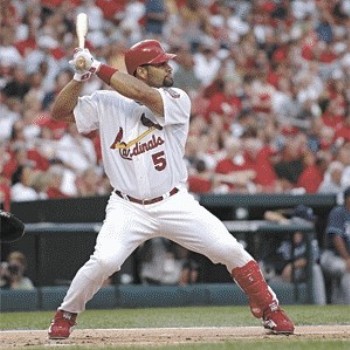 Prior to the beginning of the 2009 fantasy baseball season, we told you that the best pick in the 2009 fantasy baseball draft was Albert Pujols.  Pujols has been the best player of the decade and while there were sexier picks prior to the start of the season, Fantasy Baseball Dugout reasoned that Pujols had been doing it longer and Albert, therefore, warranted the top pick.
Most other publications and fantasy baseball web sites recommended that the # 1 pick should be used on the Marlins' Hanley Ramirez.  And, while Ramirez had a great season, Pujols was the overwhelming top rated fantasy baseball player in 2009, as analyzed by ESPN's Fantasy Baseball site.
Pujols was ranked the top player in the 2009 fantasy baseball season with a 14.28 ranking.  The runner-up, Zack Greinke, received a distant 12.51 ranking.  Pujols was not only the best pick for the 2009 fantasy baseball season, he was the overwhelming best player in MLB.  Hanley Ramirez was third with a 12.42 ranking.
The Cardinals first baseman hit .327 on the year with 47 homeruns, 135 RBI, and 16 stolen bases.  Certainly, picking Ramirez wouldn't have hurt you either.  The Marlins shortstop moved to the # 3 spot in the batting order and hit a lofty .342 with 24 homeruns, 106 RBI, and 27 stolen bases.  Many fantasy baseball managers tabbed Ramirez as the better pick mostly because of his potential for stolen bases, but Fantasy Baseball Dugout advised that HanRam's thefts would decrease this year as he moved into the #3 slot in the lineup to allow Cameron Maybin to take over the leadoff slot.
Fantasy Baseball Dugout is already analyzing statistics and player profiles for the 2010 fantasy baseball draft, even as game one of the 2009 World Series is less than 24 hours away.  Tune in to see who we recommend as the #1 player in the 2010 draft this winter.
Comments
comments