Fantasy Baseball Profile: Mark DeRosa
If you are a regular reader of Fantasy Baseball Dugout, then you know one of our favorites is St. Louis Cardinals' utility
 man Mark DeRosa.  And, while Mark is one of our favorites, his wife Heidi DeRosa is clearly the favorite of our readers; Heidi has been voted Baseball's Hottest Wife for two consecutive years.  That's an all-time record in the history of the Baseball's Hottest Wife competition.
DeRosa, the baseball player, is the 34-year-old third baseman for the Cardinals as they enter the NLDS in Los Angeles. He's a 7th round pick of the Atlanta Braves from back in 1996.  DeRosa grew up in Passaic, New Jersey and attended the University of Pennsylvania where he not only played baseball, but was also the quarterback on the Quakers' football team.
After spending 2005 with the Texas Rangers, DeRosa signed a three year, $13 million deal with the Chicago Cubs prior to the 2006 season.  In 2008, DeRosa was a key cog in the Cubs having the best record in the National League.  In 149 games, DeRosa hit .285 with 21 homers and 87 RBI.DeRosa was dealt to the Cleveland Indians on December 31, 2008 and he played with the Tribe this year until he
 was traded again to the Cards on June 27, 2009.
DeRosa Can Do It All
One of the great attributes of DeRosa's fantasy baseball value is his versatility.  Over his career, he has qualified as an outfielder and all four infield positions.  The only place you couldn't use him was behind the plate.  Not so in 2009 as DeRosa found a home at third base.  DeRosa spent 105 games at the hot corner and played 28 in the outfield.  In addition to 10 games at first base (where you probably wouldn't start him), he had 2 games as DH and 2 at second base.  For the first time in his career, DeRosa did not play a game at shortstop.
DeRosa's batting average tailed off this season from .285 in 2008 to .250.  His power numbers, however, were strong with 23 homeruns and 78 RBI.  DeRosa has never been much of a base stealer, as evidenced by his mere 3 stolen bases this season.
C

hicks Dig the Long Ball
In analyzing DeRosa's advanced stats for this year, it appears as though DeRosa is concentrating more on his power numbers at the expense of his batting average.  DeRosa struck out 23.5% of his at bats in 2009, up from 21.0% in 2008, and significantly worse than his 19.1% career whiff average.
Another significant stat is that his ground ball to fly ball ratio was 1.08 in 2009 as opposed to his 1.29 career ratio.  He didn't hit as many balls on the screws either with 16.6% line drives versus 22.4% career average.  More of his fly balls are leaving the park, however, with 14.5% of his fly balls resulting in home runs versus a career average of 10.6%. 
 

Bumb Wrist Could Hurt Fantasy Baseball Value
DeRosa struggled with a wrist injury down the stretch and manager Tony LaRussa gave him several days off prior to the start of the NLDS.  DeRosa has said that the injury will require surgery at the end of the season.  That wrist injury question mark could hurt DeRosa's off-season fantasy baseball value and his monetary value as he enters the free agent market.  The Cardinals have indicated an interest in retaining DeRosa and Mark has been quoted as saying he'd love to return to the Cubs as well.
Where DeRosa ends up for the 2010 fantasy baseball season may well be part a result of the status of Troy Glaus.  Glaus sat out most of the year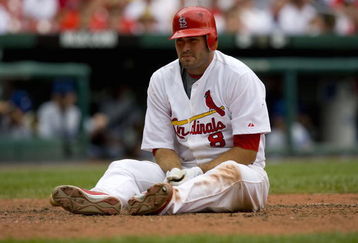 with a shoulder injury and ended up with only 29 September at bats.  Glaus hit .172 with 0 home runs and 2 RBI.  For some reason, however, that was enough for LaRussa to keep Glaus on the post-season roster at the expense of infielder Khalil Greene who hit only .200 and suffered from social anxiety disorder.  Glaus likely made the post-season roster thanks to his 2008 season which saw him hit .270 with 27 homers and 79 RBI.
Skip Schumacher was a career outfielder before making the move to second base this year for St. Louis.  Schumacher made only 9 errors all season after having never played the infield in his major league career prior to this year.  Schumacher is a measure of consistency; he hit .303 this year versus .302 last year.  He won't give you much in other categories, but a .300 hitter at second base will find a place on most fantasy baseball teams.  If Glaus returns to third base next year, it could move DeRosa over to second base and move Schumacher back to a crowded St. Louis outfield that already has Matt Holliday, Colby Rasmus, Ryan Ludwick, and Rick Ankiel.
Comments
comments