Great News: Boone Back
In March, we reported on Aaron Boone and his need for open heart surgery due to a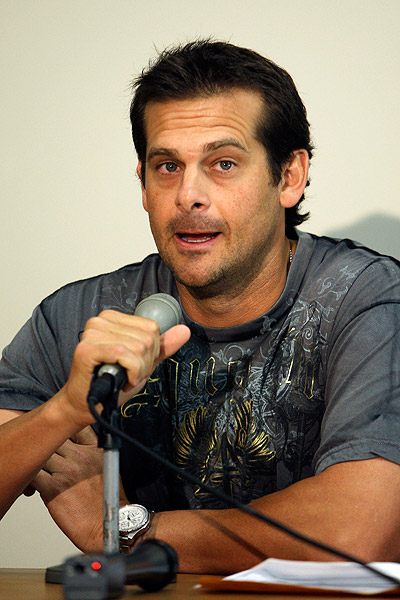 congenital defect in his aortic valve.
Great news!  Aaron Boone is back playing baseball again!
Boone played third base and hit second in the lineup for the Corpus Christi Hooks–Double-A affiliate of the Houston Astros.  The Hooks were in Midland, Texas on Monday night and Boone played five innings.  He hit two infield pop outs, but made a couple nice plays in the field.
"For the first day, it went pretty well," said Boone. "I wasn't overly emotional. The crowd gave me a nice hand. It was part of the process, part of the journey I'm on to hopefully making it back in a few weeks. I think if I were to play in the Majors, it would be more emotional for me."
Boone is back on the field less than five months after having the surgery.  He will spend the next two weeks in Corpus Christi then move up to Triple-A Round Rock.  He hopes to join the Astros when the rosters expand in September and be involved in a pennant race.
"That would obviously be icing on the cake if I could come back and be a part of a pennant race in September," Boone said. "Hopefully we play good these next few weeks and put ourselves in position."
Blummed Out
Boone has been replaced at third in the Astros' lineup by Geoff Blum (.266/7/38/0) in 88
games and at times by Jeff Keppinger (.268/3/19/0) in 73 games.
Fantasy Baseball Analysis: Aaron Boone & Geoff Blum
At this time, there's certainly no reason to run out and pick up Aaron Boone for your fantasy baseball roster.  Even if he does make it back to the Bigs in September, it's unlikely Boone will see a lot of action, unless the Astros are out of contention and Houston just wants to see what he can do by throwing him a few starts.
As for Blum, he's not setting the league on fire at the plate either.  Blum is a marginal fantasy baseball pickup even in the deepest of leagues.
Laura Cover Hopes to Earn Hottest Wife in Baseball Spot in 2010
There's a reason why Aaron Boone is such a favorite here at Fantasy Baseball Dugout. 
His wife, Laura Cover Boone, has done nude modeling and was a member of our 2008 Baseball's Hottest Wives competition.  Unfortunately, due to Aaron's stint on the DL, Laura was unable to compete in the 2009 Baseball's Hottest Wives competition.
Actually, we feel badly that we didn't include Laura in the Baseball's Hottest Wives competition for 2009 given what her family has gone through and all.  So, we wanted to make it up to her by showing her photo here.

Comments
comments