Moyer: Has His Time Finally Come?
You can never have too much pitching.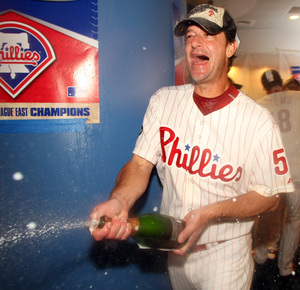 That's the traditional thought in major league baseball and also in fantasy baseball.
That is, unless you are the defending World Series champion Philadelphia Phillies.
With the acquisition of Cliff Lee and the pending arrival of Pedro Martinez, the Phillies just might have too much pitching.
Manager Charlie Manuel is certainly going to keep ace Cole Hamels and 2007 Cy Young Award winner Lee in the starting rotation.  Plus, the Phillies skipper has already said that he's going to keep J.A. Happ in the rotation.  Happ has certainly deserved it; he's 8-2, 2.74 with a 1.12 WHIP!  Not bad for a guy who was beat out by Chan Ho Park in spring training.
Joe Blanton is the other starter in the rotation and Blanton is also the only right-hander in a rotation dominated by southpaws.  Blanton is 7-6 with a 4.02 ERA and 1.30 WHIP this year.
Vote For Pedro
Martinez remains on the disabled list while he works through his minor league rehabilitation.  The 37-year-old Martinez, once the
best pitcher in the game, threw 82 pitches Wednesday night for the Reading Phillies.  There's no sense in activating Martinez until he is ready to take the mound for a start.
Moyer Catches Fish — Every Time
Ageless Jamie Moyer, 46, is scheduled to start Sunday against the Florida Marlins.  Moyer owns the Marlins and benefits from their free swinging youthful approach to hitting.  Moyer leads the Phillies in wins with 10, but his ERA is 5.55, second worst among NL starting pitchers.  Against the Marlins, however, Moyer is money in the bank.  He's 7-0 with a 1.56 ERA at Land Shark Stadium. He's 15-2 lifetime against Florida.
"You can't argue with the length of his career and the success he's had," Manuel said.  "That's how I feel.  It's very tough."
What manager would be comfortable sitting down a 24-year veteran with 605 career starts and 256 wins.  But, read between the
lines, it looks like Manuel will have no choice but to bump Moyer from the rotation.
Six Man Rotation for Phillies?
GM Ruben Amaro Jr. has suggested that the Phillies might actually go with a 6 man rotation.  That's highly unlikely in our opinion.  Manuel has already said that Happ's in and he's not going to move Lee or Hamels.  Hence, the only logical choices are Blanton and Moyer; Blanton, the only righty, is not going to the pen.
That means Moyer is the odd man out.  Could it also mean that Moyer's final start will be Sunday against the Marlins?  He's signed through the 2010 season, but it looks like Moyer's role might become that of a situational left-hander starting next week.
Our fantasy baseball advice is to bring up Moyer for his start this week and then trade him if you can get somebody to bite on him.  With that ERA, you won't get a whole lot in return, but perhaps the 10 wins will entice somebody in your league to deal.
Comments
comments