Jeter: Women's Overwhelming Choice as Baseball's Hottest Player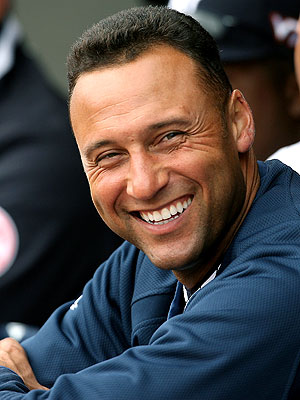 by BallparkBob
A few weeks ago, I embarked on an interesting story line.  I would interview female baseball fans across the nation to find out who are Baseball's Hottest (Looking) Players.
For the first time, I found some real value with my BallparkBob Twitter account.  Many female baseball fans responded by Twitter.  Others responded through various social networking sites and through sports blogs, especially those written by female fans.
I found women with diverse opinions of true baseball hotness.  Some were huge baseball fans and knew the players from around the league; others were more marginal fans and only knew the local players.
There was a definite bias toward the larger cities.  New York and Chicago players were mentioned often and Los Angeles players a bit less (maybe there's so many hot guys in Southern California that baseball players are nothing special compared to Hollywood actors).  Small markets were not well represented.  There might be a lot of hot guys playing for Pittsburgh or Kansas City, but very few were represented in my discussions.
It was good to see that there was not any racial bias at all from the female fans.  Plenty of African-American and Hispanic players, along with White players, were represented in the nominations.
One of the most interesting things that I got out of my study was the word "hawt."  I never really saw that word before, but many female baseball fans used this unusual spelling to describe their favorite baseball players.
In general, the women I spoke with seemed to have fun with this project and, not surprisingly, were very vocal in their support for their favorite ballplayers.  Take Jaclyn whose favorite is her hometown Washington Nationals' third baseman Ryan Zimmerman.  "What girl doesn't love a baseball player?" said Jaclyn.  "They wear tight pants and no padding (therefore no false advertising) and they squat when a guy comes to bat.  It's great!"
Derek Jeter Named Baseball's Hottest Player
There were three names that turned up overwhelmingly more than others.  The top vote getter, by far chosen by female fans as baseball's hottest player, was Derek Jeter of the Yankees.  It doesn't hurt that Jeter is a veteran all-star playing in New York with Hollywood looks.
"If you ask me, it's a no brainer – Derek Jeter," said Jennifer of Dumont, New Jersey who works in the trade show industry.  "Those blue eyes just go so well with the pinstripes!"
Jeter is also single and one of the most eligible bachelors in the world.  In fact, the Yankee captain has dated 6 of the Maxim Hot 100, including Jessica Alba, Scarlett Johannsen, Vanessa Minnillo, Jessica Biel, Gabriele Union, and Mariah Carey.  That's like winning the Triple Crown…twice!
"What makes Derek so hot is that he is not only gorgeous, but gentile and smart," said Terry of Livingston, New Jersey, who runs a web site about mothers going back to work after having children.  Terry is such a huge baseball fan that her knickname in college was "Thurm" after the late Yankee captain.  "I feel confident one day he will make a great father and a loyal husband."
Not any time soon, however.  Jeter has indicated that he doesn't want to get married for "another five years."
Alyssa, a Las Vegas public relations consultant, had two of the top three.  Alyssa named Jeter as the hottest baseball player; she likes them clean shaven and in pinstripes.  "Once a player puts on those (Yankee) pinstripes," said Alyssa, "they get better-looking handsome."
Based on Jeter's overall vote total, we are naming Derek the captain of the Baseball's Hottest (Looking) Players squad.
Cole Hamels and David Wright Heat Up Baseball's Hottest Players
The second most votes went to a guy who became a household name last Fall when he led the Phillies to a World Series victory and was named MVP of the Fall Classic.  He's so good looking that first baseman Ryan Howard calls him "Hollywood."  He is married to one of Fantasy Baseball Dugout's Baseball's Hottest Wives' finalist Heidi Strobel.  He's none other than the very handsome southpaw Cole Hamels.
While our # 2 hottest baseball player Hamels wears pinstripes too (albeit red ones), Cole is hardly of the clean-shaven variety.
"Cole Hamels is a babe," said 17-year-old Helene of Wayne, Pennsylvania.  "There's something about that long flowing hair that attracts the young females," added Helene.  "Why did he have to get married?  It makes no sense!"
Hamels has appeal across the country, but is a hottie hero in Philly.  Tween Katie of Villanova, Pennsylvania admits to wearing a t-shirt that says "Cole Hamel's future wife" to Phillies games.
The third most popular player among women is David Wright of the New York Mets.  Wright is strikingly handsome and a darn good ballplayer too.
While Jeter rules in Manhattan, Wright rules in Queens and Long Island.  "He is looking good on the field and off, working those tight baseball pants, and looking sharp in blazers and jeans at events for his charity, The David Wright Foundation," said Aimee of Long Island.  Aimee appreciates the work that Wright does through his foundation as a "role model for children in need."
Windy City Baseball Hotties
Other than New York, Chicago players were the best represented in our survey.  White Sox's players Scott Podsednik and Paul Konerko both made honorable mention on our team.  Pods' wife Lisa Dergan Podsednik was also a finalist in our Baseball's Hottest Wives contest last year.  Funny how good looking people marry other good looking people.
Megan of Chicago said that there are female baseball fans in Chicago just because of Podsednik.  "It's when Pods is running away from you that you appreciate him the most.  He knows it too," said Megan.  "He definitely puts on a show in left field…lots of bending and stretching."
As for Konerko, Megan added that "back when he was named Chicago's most eligible bachelor, I know tons of girls who would have killed for the opportunity to be Mrs. Konerko.  He's genuinely handsome and just seems like an all around good guy," added Megan.  "His ability to knock one out of the park and his .288 batting average doesn't hurt either."
Finally, a woman that is making sense to me!
Ashlee writes a blog about the Cubs and the surrounding Wrigleyville area attractions.  Not surprisingly, Ashlee is fond of the Cubs players.  She named 4 Cubs players along with 4 opposing players to her top MLB hunk attractions, 6 of which made our final list.  Derrek Lee made first team at first base in what we thought was an upset over such handsome first basemen as Carlos Delgado, Justin Morneau, Mark Kotsay, and Konerko.
"Lee's smile could take your breath away, if not turn your knees to jello, too," said Ashlee.
Ashlee was also fair to the opposition as well.  She said that Mark DeRosa, husband of last year's top vote getter Heidi DeRosa in our Baseball's Hottest Wives contest, will "forever be a Cubbie in every girl's heart."
A true baseball fan, Ashlee even knows players from the other league.  She favors Marco Scutaro of the Blue Jays.  "He is a dreamboat.  I'd so give up wearing heels for him."
Fond of dimples, Ashlee also expressed a penchant for the Indians' Grady Sizemore, a first teamer on our squad.  Sizemore is "easy on the eyes and works with inner city kids.  Sigh!"
Baseball's Hottest Red Sox Players
Red Sox Nation was also well represented in our survey, although some Boston players just missed the cut.  Mike Lowell of the Sox was one.  "Tall, dark and handsome," are the words that Karen from Virginia used to describe Lowell.   Karen also likes that Lowell has no tattoos.  "He's just plain HOT HOT HOT!!!!"
Lauren is 25-years-old, lives in Atlanta, and also works in PR, but her favorite player is also from Boston–Jonathan Papelbon.  Lauren likes that Papelbon has donned a "hot mohawk" and that he's "got this rugged intensity when he pitches."
Cathe from Las Vegas has an interesting job as a comedian with a group of crazies called Short Bus Comics.  She's also a Sox fan.  When Manny got traded to the west coast, she gave up on him despite his "big dark eyes and floppy locks."  Now, Cathe has moved on to Lowell and Kevin Youkilis.  She likes that these guys don't say "dude" in their interviews.
"It's like having a crush on uber-men," said Cathe.  "You see them at their best, and don't have to do their laundry, or hear them belch at 3 AM."
Spoken like a true comedienne.
Chasing Down the Hottest Phillies
Another first teamer is Phillies second baseman Chase Utley.  "I recently saw Chase Utley and he is very hawt," said Joni, formerly of the City of Brotherly Love who now resides in Baltimore.  The 26-year-old's current favorites at Camden Yards?  "Nick Markakis is hawt and Brian Roberts is hawt."
Brittany is a student who work part-time with a mobile marketing company and her favorite Phillies player is Jayson Werth.  Part of her fondness for Werth is based on the fact that she too is an outfielder.  "Werth wasn't even a starter at the beginning of last season and he ended up being one of the stars of the team that won the World Series," said the high school varsity outfielder.  "He makes me nervous on fly balls sometimes, but he's tall and lean and can really hit.  I hope to tryout to be a Phillies ball girl in a couple of years and hopefully I'll get the right field job!"
Bobby Crosby Looks Like Brad Pitt
Small market teams were not completely left out, however.  One favorite was shortstop Bobby Crosby of the A's.  "He reminds me of Brad Pitt," said Cecile from San Jose.  "Three years ago the A's did this funny commercial playing on the fact that some  people think Crosby looks like Brad Pitt."
Not a bad recommendation.  Take a look for yourself.  Crosby made honorable mention in a very congested shortstop spot.  Why are so many shortstops so good looking?  I guess for the same reason so many quarterbacks are.
Michelle works for a Los Angeles PR firm on Santa Monica Boulevard.  Her favorite local is Andre Ethier who made our first team outfield.  "What makes him HOT is his amazing baseball skills and his ability to still look sexy while playing the game," said Michelle.
Yankees Have Hottest Baseball Players in League
But, when it comes to hot baseball players, nowhere compares to the City that Never Sleeps, New York.  And, it's not just about Jeter and Wright.
Stefanie from Queens loves John Maine, the only player in MLB whose last name is a state.  "Maine has a very accessible look," said Stefanie.  "Boy next door, tall, great arms and doesn't seem arrogant which is very attractive."
Closer Mariano Rivera is the favorite of Jane–a Santa Barbara author of romantic comedy articles who grew up in New York.  Jane can be heard on "The Natural," a sports talk radio show on WVNJ-AM in New Jersey.  She also has a blog called "Confessions of a She-Fan," a Yankees site, which has been the # 1 fan blog on MLB's site.
"His (Rivera) eyes are gorgeous and so is his smile.  He's really graceful and agile and he's not a loud mouth who calls attention to himself by pumping his fist.  He just goes out there and does his job," said Jane.  "To me, he's the essence of hot."
Alison is from Merrit Island, Florida and has an e-commerce site that sells professional ink.  Her favorite is Yankee catcher Jorge Posada.  She describes Posada as "a person whose integrity and kindness shine through."
Allison is also fond of Alex Rodriguez.  She thinks A-Rod is "easy on the eyes."
The jury on A-Rod, however, is bi-polar.  "You can keep A-Rod," said Janet an estate planner from West Orange, New Jersey.  "While decorative, he's a jerk,"
In the early 80's, Janet was a Yankees' season ticket holder and "spent the whole time looking at Dave Winfield's butt."
Janet is a real fan.  Her wedding song was Take Me Out to the Ballgame and her honeymoon was in Cooperstown.
My kind of girl.
See the complete list, complete with extensive photos, of Baseball's Hottest Players at Fantasy Baseball Dugout.
Comments
comments