World Baseball Classic Fantasy Baseball Cheat Sheet
Below is a list of the top three MLB hitters and pitchers currently participating in the World Baseball Classic in each standard 5×5 fantasy baseball category.
I don't think anyone knows how to gauge WBC success for either hitters or pitchers. My theory is that there is little benefit for pitchers. If anything, pitching in the WBC is probably detrimental to pitchers because it will likely limit their innings early in the season.
There seems to be something to gain for hitters because they are facing quality pitching in a live-game situation. But does these games make them hit better during the season? No clue.
As a simple piece of advice, you might want to move hitters up your draft board that are tearing up WBC pitching. You probably shouldn't do anything with pitchers, however. Due to their pitch count limits and potentially inflated ERA's, there's no telling what to do. We will list the pitchers anyway.
Batting Average:
Jose Lopez, Team Venezuela: .615
Carlos Delgado, Puerto Rico: .600
Ivan Rodriguez, Puerto Rico: .600
Runs:
Adam Dunn, USA: 8
Kevin Youkilis, USA: 8
Jose Lopez, Venezuela: 7
Home Runs:
Adam Dunn, USA: 3
Miguel Cabrera, Venezuela: 2
Adrian Gonzalez, Mexico: 2
RBI:
Adrian Gonzalez, Mexico: 7
Melvin Mora, Venezuela: 7
Chris Ianetta, USA: 6
Stolen Bases:
Edgar Gonzalez, Mexico: 2
Carlos Beltran, Puerto Rico: 1
Carlos Delgado, Puerto Rico: 1
Wins:
Daisuke Matsuzaka, Japan: 2
Javier Vazquez, Puerto Rico: 2
Jorge Campillo, Mexico: 1
Saves:
Francisco Rodriguez, Venezuela: 2
J.J. Putz, USA: 1
ERA (minimum 5 innings pitched):
Pedro Martinez, Dominican Republic: 0.00
Carlos Silva, Venezuela: 0.82
Javier Vazquez, Puerto Rico: 0.96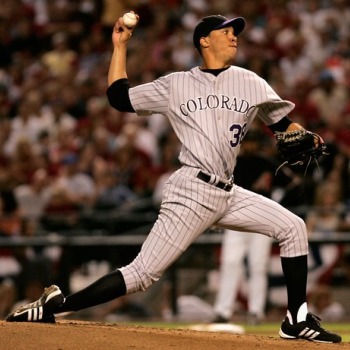 Strikeouts:
Ubaldo Jimenez, Dominican Republic: 10
Daisuke Matsuzaka, Japan: 9
Oliver Perez, Mexico: 8
WHIP (minimum 5 innings pitched):
Pedro Martinez, Dominican Republic: 0.17
Ubaldo Jimenez, Dominican Republic: 0.50
Elmer Dessens, Mexico: 0.75
Comments
comments