Talking Shop with the Indians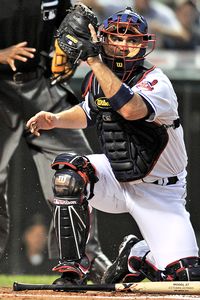 The Cleveland Indians offer an interesting 2009 fantasy baseball twist.  How do the Indians find time for emerging catcher Kelly Shoppach and also keep two-time all-star Victor Martinez content?
Martinez, who has a career .298 batting average, was sidelined last season in June with elbow surgery.  His injury gave Kelly Shoppach an opportunity.  "Shop," as his teammates call him, pounced on that opportunity.
Shoppach hit 21 homeruns and drove in 55 in 112 games, mostly subbing for the injured Martinez.  In a July 30 game against the Tigers, Shoppach became just the fifth player in MLB history to have five extra base hits in a single game when he belted two homers and three doubles in an extra inning loss.  With those kind of numbers, you can't bury Shoppach on the bench, especially when the Indians' brass regard him as having a better arm than Martinez.
Manager Eric Wedge has already announced that the 28-year-old Shoppach will catch 2008 Cy Young Award winner Cliff Lee.  Martinez will catch no. 2 starter Fausto Carmona.  After that is anybody's guess.
"It's fair to say that Shop's going to get more playing time, but we also know that Victor's going to be playing every day somewhere," Indians' manager Eric Wedge said. "Victor's still our catcher, but we feel like we've got another one in Kelly Shoppach, too. Part of it's going to be the other guys we have on the ballclub, Ryan Garko, how much (Travis) Hafner DHs."
When Shoppach catches, Martinez will likely play first base where he's shown solid skills.  Garko, also an ex-catcher, is going to play left field in spring training camp, but the Indians are acutely aware that he doesn't have great mobility in the outfield.  Travis Hafner had injury problems of his own last year as a shoulder ailment dropped him to .197 with five homers and 24 RBI in just 57 games played.
Wedge has admitted to both Martinez and Shoppach that "we're not sure how this is going to play out.  Anything we do, Victor needs to be on board with."
How the Indians will handle two catchers in 2009 is an interesting question for fantasy baseball managers.  How do you project 2009 fantasy baseball stats for Shoppach, Garko, and Hafner when you don't know how much each will play?  Will Shoppach get more playing time at DH when Martinez catches?  Will Hafner recover from his injured shoulder and get most of the DH time?  How will Garko fare in the outfield?  It's a nice problem for Wedge to have, but Shoppach doesn't believe it presents a problem for the Tribe.  This is certainly a situation that fantasy baseball managers will have to watch in the Indians' spring training camp.
"I'll play when they ask me to and I'll give them everything I've got and do the best I can," said Shop.  "But at the end of the day, I want a World Series ring, just like the rest of us."
Comments
comments