Andruw Jones: 2009 Fantasy Baseball Sleeper
Is there any fantasy baseball value left in Andruw Jones?
The 32-year-old Curacao native was horrible in 2008.  Last season, his first with the Dodgers, Andruw Jones hit .158 (yes, you read that right) with three homers and zero stolen bases.  And, last year was only three years removed from when Jones swatted 51 homers and knocked in 128 for the Braves.
Jones is rumored to be signing a $500,000 MINOR LEAGUE contract with the Texas Rangers this week–payable if he makes the team.  He has the potential to pick up another million if he makes the team and hits some performance bonuses.  And, that stellar deal was negotiated by none-other than the high powered knucklehead agent Scott Boras.  That's how far Jones' financial value has fallen in this shaken economy.
The Braves and the Yankees had interest in Jones, but Boras is a big fan of Rangers' hitting coach Rudy Jaramillo and he encouraged Jones to sign with Texas after the Dodgers released him.
Even the Rangers aren't anticipating much from Jones.  "He's a long shot to make the team as we sit today but an interesting reclamation project," said Rangers general manager Jon Daniels.
"I like the fact that he brings 10 Gold Gloves, he's a winner and he fits well into our clubhouse," said Rangers' manager Ron Washington.  "He has something to prove. We've got him in camp now, we'll see where he goes from here."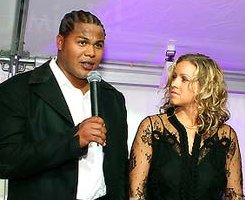 Jones reported to spring training overweight last season, got off to a horrible start, was booed by the late-arriving LA faithful, and had knee surgery in May.  He finished the season warming the bench watching slap-hitting Juan Pierre (1 homerun and 40 steals) absorb some of his playing time.  The appearance of Manny Ramirez, who arrived just before the July 31 trading deadline, put Jones on the pine for good.
The Rangers' outfield will likely sport David Murphy, Josh Hamilton, and Nelson Cruz in the starting lineup with Marlon Byrd providing a solid backup role.  It looks like Jones would have to beat out Brandon Boggs or fan favorite Frank Catalanotto to make the squad.
Can Andruw Jones be considered a top 2009 fantasy baseball sleeper?  If you're a gambler, you may want to take a chance with a minor league pick on Jones, but I doubt it.  It looks like the Rangers outfield is pretty set.  Its doubtful Jones could get much playing time unless there's a bunch of injuries.
But, I must admit, it's hard to forget those 51 homers he hit just four seasons ago.
Comments
comments