2009 Minor League Infield Prospects, Vol. 1
After taking a look last week at some prospects in the outfield that could be great late-round fantasy draft selections, we'll move to the infield to look at some youngsters who will burst onto the scene in 2009.
Depending on how savvy the owners in your league are, you may still be able to swing Elvis Andrus as a late-round sleeper. More realistically, though, many already know of the 20-year-old future Rangers' shortstop (because they read our Andrus article a few weeks back).
Of course, there are other sleeper prospects out there. Allow us to introduce you to a few of them in the infield.
Alcides Escobar, Shortstop, Milwaukee Brewers
Escobar is another speedster on the fast track to the majors. He did see some action with Milwaukee in September after spending all summer with the Double-A Huntsville Stars. In AA, he hit .328 with 34 stolen bases.
Not a home run threat, Escobar did drive in 76 runs in 131 games with Huntsville. He also scored 95 runs. The biggest road block to Escobar reaching the majors is that he plays shortstop, which is currently manned in Milwaukee by All-Star J.J. Hardy. There have been rumors that Hardy will move to second to allow Escobar to play in 2009. If that happens, Escobar will be a valuable fantasy rookie.
Mat Gamel, Third Base, Milwaukee Brewers

Escobar's Huntsville teammate, Gamel absolutely tore up Southern League pitching in 2008. Although he saw some time at Triple-A Nashville and even got two at-bats for the Brewers in September, Gamel played most of 2008 in AA.
Gamel hit .329 for Huntsville with 19 homers and 96 RBIs. He also scored 96 runs and stole 6 bases. The Brewers struggled to find a consistent third baseman in 2008, but Gamel's terrible fielding could impede him from that position. He has 119 errors in three years at the hot corner. He may end up in the outfield. Depending on your league rules, Gamel could get third base eligibility if he plays there at all for Milwaukee.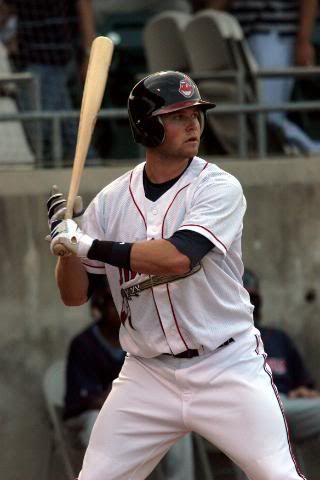 Wes Hodges, Third Baseman, Cleveland Indians
Another all-bat, no-glove third baseman is Hodges, who spent all of 2008 with Akron in the Eastern League. Last year, he hit .290 with 18 home runs and 97 runs batted in. He also crossed the plate 70 times.
Hodges will probably start the year in Class-AAA. He has been formally invited to spring training with the likes of Matt LaPorta and a selection of the top prospects in the Indians organization. If the Indians cannot solve their 2008 third base problems, look for Hodges to get the call.
Right now, Hodges is not worth drafting in fantasy leagues. Even those AL-only leagues. That said, he is worth watching out for.
Besides, isn't that what being a fantasy baseball prospect is all about?
Comments
comments