Pat Adds Bargain Bat to Rays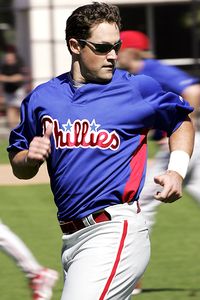 by BallparkBob
The Tampa Bay Rays got a real bargain when they signed Phillies' left fielder Pat Burrell to a two-year $16 million contract. Burrell, who made $14 million in 2008 alone, took a significant pay cut in a soft market with a host of top corner outfielders like Manny Ramirez, Bobby Abreu, and Adam Dunn still available on the free agent market.
"It was half of what Burrell was looking for," said Cincinnati Reds' general manager Walt Jocketty.
It was also significantly less than what the Phillies paid for Raul Ibanez who is five years older than Burrell. Ibanez (read more about Ibanez's projections for 2009 at Bloop Single), 37, had a higher batting average than Burrell, but has averaged just 24 homers per year over the past four while Burrell has averaged over 30. Critics are also questioning why the Phillies would want a third consecutive left-handed hitter in Ibanez to hit behind Chase Utley and Ryan Howard. It makes new general manager Ruben Amaro Jr.'s initial major move appear questionable.
Getting Back to the Fall Classic
"The thing that was most important to me was to go somewhere where I thought I had as good a chance or better to repeat and go back to the World Series," said Burrell. With the move, Burrell, who has two homes in the Clearwater area, becomes just the fifth player in history to start the following season with the team that his previous team faced in the World Series. (For trivia experts, the others were Don Gullett, Tommy John, Gary Thomasson, and Edgar Renteria who did it most recently in 2004.)
Burrell was much maligned and adored by the rapacious Phillies' fans over his career. Burrell was solid, but failed to live up to the unrealistic hype he received since being the top pick of the 1998 draft out of the University of Miami. In the last four seasons, Burrell averaged .262 with 31 homers. He's a very patient hitter and averaged 103 walks over those four seasons. His fielding will not be an issue in Tampa Bay where he will be used almost exclusively as a designated hitter.
Pat the Bait
Some of the reason that Phillies' fans were not happy with Burrell's performance was that the eligible Burrell was well-known around
Philadelphia nightspots throughout his career. Phillies' teammates called him "The Bait" as he attracted so many hot women when they went out with him. Pat dated local soccer star Heather Mitts and did a racy interview with Penthouse magazine in 2001. He had a local fan club of women named "Burrell's Babes."
The handsome Burrell appeared shirtless in a photo shoot for the Phillies calendar; his rugged picture is widely available on the internet. All of this led to concern that Burrell was not putting out as hard as he could be in Philadelphia.
The Bait Gets Married
In November, 2007, Burrell married his wife Michelle Burrell. This marriage seemed to hit home with the conservative blue-collar Philadelphia crowd as the fans finally embraced Burrell completely in 2008. Getting off to such a hot start didn't hurt; Burrell hit .326 with eight homeruns in April to begin the Phillies' championship season.
The Arkansas native led the Phillies' championship parade, with wife Michelle, and dog Elvis by his side. Clearly, Philadelphia fans had forgotten about the Burrell who flung his bat at outside curve balls and had remembered the steady outfielder who was the longest tenured player on the championship team.
Best Lineup in Baseball
Burrell adds a lot to a Rays' team that was built around pitching and speed. The Rays ranked 13th in the MLB in runs scored in 2008,
but they could be baseball's strongest lineup in 2009. Burrell adds a nearly guaranteed 30+ homers versus Cliff Floyd who hit just 11 last year as the primary DH for the Rays. Plus, he adds a bat that will surely help against left-handed pitching where the Rays were not particularly strong last year.
In addition, the right-handed bat gives the Rays a great lefty-righty rotation in its lineup that will probably look something like this:
Iwamura, 2B, L
Upton, CF, R
Pena, 1B, L
Longoria 3B, R
Crawford LF, L
Burrell DH, R
Joyce RF, L
Navarro C, S
Bartlett SS, R
Accounting for Burrell
Burrell's right-handed bat should really help the Rays, because you know they are going to face C.C. Sabathia and Jon Lester often
when they take on division rivals' New York and Boston. Burrell sports a .276 average lifetime versus southpaws and .251 against righties.
Burrell has hit 30+ homers in three of the past four years and the only year he didn't hit 30, he hit 29. He drove in 95+ runs in '05, '06, and '07 before dropping to 86 last year. That drop is partially due to his being removed from games for defensive purposes in the seventh inning in games in which the Phillies were ahead.
Burrell won't help your fantasy baseball team's batting average much, but he will contribute with RBI and HR's. As a DH, he won't be removed from games in late innings so he'll probably get that last at bat which should elevate his RBI totals to 100+ with such strong hitters in front of him.
A lot of fantasy baseball managers will naturally project less homers for a player that gets traded from homerun-friendly Citizen's Bank Park, but this should definitely not be the case for Burrell. Burrell doesn't hit many cheap homeruns given his size and strength; his homeruns would be out of any park. Moreover, the statistics simply don't show Burrell to be any more productive at home than on the road. Over the past five years, Burrell has 74 homers at home and 74 on the road.
Burrell's 2009 Statistical Summary
Pat Burrell will get more at bats with the Rays since he won't be removed from games for defensive purposes and the natural lack of having a pitcher hitting in the lineup in the American League. Moreover, his homerun total won't wane at Tropicana Field given the bombs he hits. Unfortunately, his batting average won't improve either. If you get a single stolen base per year out of Burrell, it will be a miracle; he hasn't swiped a base since the 2004 season.
Look for Burrell to continue to strikeout a lot and he's always going to be one of the slowest players in MLB. He's far from being a perfect player, but he can hit for power and is very consistent. Look for Burrell to hit 35 homers, knock in 100 runs, and hit .250 for the Rays in 2009.
Comments
comments