The 2008 Holliday Season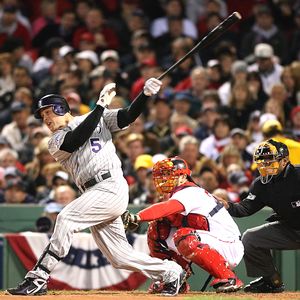 One of baseball's best outfielders, if not the best, will almost certainly be playing in a different uniform next year.
The Colorado Rockies have been actively shopping Matt Holliday, currently our no. 1 outfielder heading into 2009 fantasy baseball. The St. Louis Cardinals are the current front-runner to land the power-hitter. The major players in the proposed deal are Holliday and 2008's biggest fantasy baseball surprise, outfielder Ryan Ludwick.
So, how does this proposed trade affect the relative fantasy ratings of each of these players?

Let's start with Holliday, who is coming off his worst performance of the last three years mostly because he only played 139 games. He hit .321 with 25 home runs, 88 RBIs and 107 runs scored. Most remarkably, Holliday showed off some wheels, stealing 28 bases in 2008.
If Holliday were to stay in Colorado, he would have been a top 3 fantasy outfielder with stiff competition coming from guys like Ryan Braun and possibly Manny Ramirez. There are two major effects of changing Holliday's potential if he goes to St. Louis:
He will leave a tremendously hitter-friendly ballpark. (not good)
He will be hitting behind the best hitter in baseball. (good)
Holliday lost the 2007 MVP award to Jimmy Rollins in large part because voters felt that Holliay's stats were inflated by Coors Field. It's hard to argue with that claim. For his career, Holliday is a .357 hitter in Coors and a .280 hitter on the road. He hits a home run every 18 plate appearances in the mile high air, but only every 33 plate appearances on the road.
Expect a slight decline in Holliday's numbers, but he will still hit .300 and hit 25 home runs. If he continues his pilfering habit in 2009, his value is that much higher because of the paucity of 30-30 players in the majors.
Ryan Ludwick had a great year in 2008 mostly because he hit behind Albert Pujols. Holliday will now be in the situation and have the opportunity to see more pitches to hit.
Ludwick will lose the advantage of hitting behind Pujols and will gain the advantage of hitting in Coors Field. Considering that Ludwick had very even home and road splits in 2008, he should be able to put up much better numbers in Colorado. Remember, it is a good bet in fantasy baseball to draft a guy who plays 81 games in Colorado when choosing between a Rox Bomber and a hitter on another team.
He hit .299 with 37 homers, 113 RBIs, 104 runs scored and four steals in 2008. His power numbers could increase to .310-40-120. However, any fantasy owner pinning their hopes on Ludwick needs to take a step back. In the majors since 2002, Ludwick only became an everyday player in 2008. Injuries have been an issue for Ludwick for much of his career, and he has only put up one excellent year.
Because there is just not much of a track record here, it is certainly possible that Ludwick has peaked and that he has nowhere to go but down. Fortunately, a move to Colorado would lessen that decrease.
Ludwick is a great option as a second outfielder but remains too risky to be a fantasy owner's first choice in the outfield.
Comments
comments