2009 Preseason Fantasy Baseball Rankings: Outfield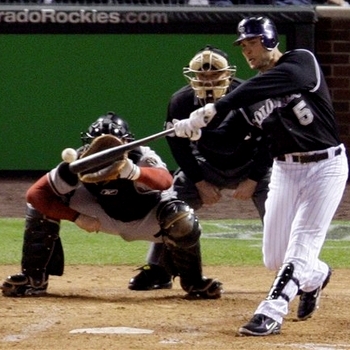 The repeat of our preseason rankings for 2008 continues with our preseason outfielder rankings in 2009.
Matt Holliday, Colorado Rockies outfielder, was our no. 1 rated outfielder heading into last season. After the year he had in 2008, there's no reason to move him from the outfield throne heading into 2009.
Holliday batted .321 with 25 homeruns, 88 RBI, 107 runs scored, and 28 stolen bases. As we stated in a recent post, we also love the potential that drafting Holliday brings because he plays 81 games a season in the hitter friendly confines of Coors Field.
To get an idea of who we think will be the fantasy baseball superstars in the outfield next season, check out our first top 75 preseason ranking of Major League outfielders.
Keep your eye on our site this week. Before its over, we will be releasing pitcher rankings and our top 250 players in fantasy baseball for 2009.
If you check out our fantasy baseball preseason rankings and have an opinion one way or the other with our rankings, give us a shout. Drop some comments below or e-mail webmaster [at] fantasybaseballdugout [dot] com.
Comments
comments