Lingerie Football League to Offer Fantasy Stats
From the makers of Lingerie Bowl comes the Lingerie Football League. Set to debut in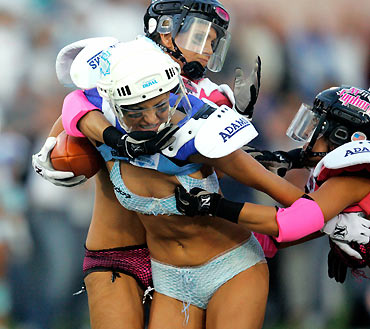 2009, the Lingerie Football League will have ten teams including the following initial franchises.
In the Eastern Conference:
Atlanta Steam
Chicago Bliss
Miami Caliente
New England Euphoria
Tampa Breeze
The Western Conference consists of:
Dallas Desire
Los Angeles Temptation
Phoenix Scorch
San Diego Seduction
Seattle Mist
The league was created following the dramatic success of the Lingerie Bowl which first aired during the Super Bowl halftime since 2004. In fact, many pundits have long claimed that the Janet Jackson "wardrobe malfunction" was actually the NFL's answer to the racy Lingerie Bowl which had taken away a lot of its halftime viewers.
Players will earn salaries in the region of $40,000 each and the schedule will mirror those of the mainstream National Football League. Plans for expansion into europe, including the UK, and Canada and Asia are anticipated for next season.
Lingerie League spokesman Kyle Bolin said that while the league is clearly "visually driven," this is no powder puff football league. Over 90 percent of the players recruited have college degrees and sports backgrounds. Bolin did state, however, that most of the players will be models too.
"Yes, they are beautiful, no question, but these girls are also extremely athletic," said Bolin.

Bolin added that there have been 16,000 inquiries so far from prospective fans seeking season tickets. Many fans have also generously offered their services as volunteer coaches. Some have even offered masseur service.
A league such as this is clearly about promotion and exposure (haha). The Lingerie Football League, already on the cutting edge of promotion, is planning an extensive mobile marketing campaign to reach young male fans and keep them "abreast" of the LFL action.
The Lingerie Football League will also have an extensive fantasy football option, according to its web site. "LFL fans around the world will be able to engage in true fantasy football in 2009 drafting players from 10 LFL teams consisting of over 350 players." No further details were given or how fantasy managers would be able to find out information to help them in the draft.
I guess we'll have to start another web site.
BallparkBob purchased the Lingerie Bowl in 2004, never imagining that there would be a wardrobe malfunction during halftime of the Super Bowl that would show more skin than appeared in the Lingerie Bowl.
Comments
comments