Maxim's Hottest Baseball Wives Inspired by FBD
You know you've made it when Maxim magazine contacts you. That's exactly what happened a few weeks ago when Maxim, America's leading laddie magazine, contacted Fantasy Baseball Dugout to inquire about our Hottest Wives in Baseball series.
On page 22 of the October, 2008, issue of Maxim is a feature inspired by Maxim editors looking through our Hottest Wives in Baseball. The Phillies came out on top in the Maxim poll just as they did in the NL East this season. Featured are three Phillies wives, including Heidi Strobel Hamels, along with Anna Benson and Arynne Blackley. Never mind that Benson and Blackley didn't play in the Bigs this season; their wives are still smoking hot.
The Atlanta Braves are well represented in the article with Jamie Kotsay and Christine Glavine prominently displayed. Glavine, formerly Christine St. Onge, was the lone representative that Maxim didn't steal from Fantasy Baseball Dugout's Hottest Wives in Baseball series. So, we decided to give you more of Christine here because, quite frankly, she deserves it.
Of all the women mentioned in the article, only one will be cheering on her husband in the post-season. Heidi Hamels will be at Citizen's Bank Park on Wednesday afternoon when Cole Hamels (a younger version of Jim Carey) takes the mound against the Milwaukee Brewers who are seeing their first post-season action since 1983. Cole will need all he can get against that strong Brewer power. So, we'll give Phillies' fans another shot of Heidi during the time she appeared in Survivor.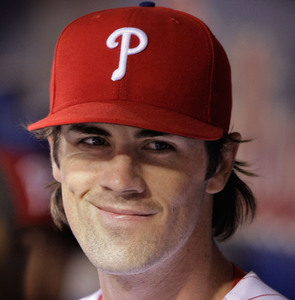 Finally, the article pays homage to the Yankees and says that "A-Rod trades in babe wife for Skeletor" referring to our own Material Girl Madonna and her rendezvous with A-Rod.
Now, that's not nice.
Comments
comments