Fantasy Baseball Two-Start Pitchers Week 22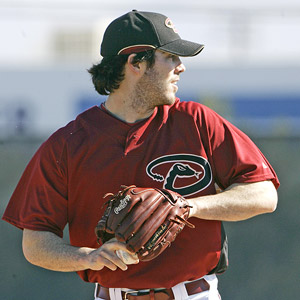 Quality starting pitching is essential to winning in fantasy baseball. If you have a pitcher that hasn't been carrying their weight, consider adding a starting pitcher who will make two starts in Week 22.
If the pitcher you consider isn't at the top of the rankings, there's often a chance he'll throw at least one good game out of the two he is probable to start. Worst case, a pitcher with two starts will generally keep a lower ERA and bring in more strikeouts, which could save owners in weekly head-to-head matchups.
Dan Haren of the Arizona Diamondbacks, an FBD All-Star who is 14-6 with a 3.12 ERA, 160 strikeouts, and a 1.06 WHIP in 173 innings, tops our list of two-start fantasy baseball pitchers in Week 22. He takes the mound Monday versus San Diego and Jake Peavy, then Sunday versus the Dodgers and Derek Lowe. Other "must starts" in Week 22 include:
The Sunday Special – A two-start pitcher who will impress you with their starts in Week 22:
Scott Baker, Minnesota Twins (7-3, 3.74, 107, 1.17). Overshadowed by the re-emergence of Francisco Liriano in the Twin Cities and our frequent fawning over Glen Perkins and Nick Blackburn has been the success of Baker. We've slept on him until now, but it's time to take notice. Despite being hit by the 'no decision' bug over the past month, he's pitched over 5 innings each time out and logged 31 strikeouts in 36.7 innings of work since July 26. He takes the mound Tuesday against the Seattle Mariners versus Ryan Roland-Smith, then Sunday on the road against Oakland and Greg Smith.
Waiver Wire Wonder – A two-start pitcher owned in around 40% of leagues to consider in Week 20:
Brian Moehler, Houston Astros (9-4, 3.87, 62, 1.32). Mohler hasn't lost a start since July 4, but is still only owned in 26% of leagues. What's up with that? He's 5-0 since July 9 and has struck out 29 batters over that time span. Moehler started the year in the bullpen for the Astros, but has been a regular part of the rotation since May. We realize he doesn't strike out many batters, but typically pitchers owned in 40% or less of leagues don't log high strikeout totals. Moehler will make a useful pitcher in most leagues this week because of his matchups, however. He takes the mound Monday against Mike Pelfrey and the New York Mets, then Saturday against Braden Looper and the St. Louis Cardinals.
Comments
comments