Fantasy Baseball Injuries And Consequences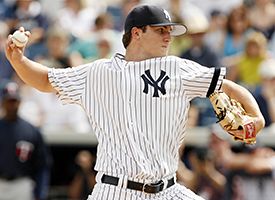 One constant frustration for fantasy baseball players is the presence of highly valued draft picks on the disabled list.
But down the stretch, the best thing about those draft picks you stashed on the DL is that they come back, and can lead you to championship glory.
What is the timetable for the return of some top fantasy baseball stars to help your team down the stretch?

Phil Hughes, New York Yankees: On the DL since 4/30 with a strained right oblique, Hughes began his rehab assignment on July 29th. In 11.3 innings, Hughes has allowed 6 hits, 1 run and 4 walks, striking out 8 in three games with Single-A Charleston and Triple-A Scranton/Wilkes-Barre. "It feels like it's almost to that point where I can throw a full start," Hughes told The Scranton Times-Tribune. According to the New York Times, Hughes was consistently throwing between 93 and 94 mph on Thursday, in his most recent rehab start. The schedule currently has Hughes set make his next start against Pawtucket tonight and he's expected to throw 85 pitches in that outing.
Advice: Pick Hughes up to help you out in the home stretch.
Evan Longoria, Tampa Bay Rays: After fracturing his right wrist, Longoria has hit the 15-day DL retroactive to Aug 8. After being hit on the wrist with a J.J. Putz pitch on Thursday, Longoria started on Friday, going 1-for-3 with 2 strikeouts. Further tests revealed the fracture, as initial X-rays after the game on Thursday were negative. Willy Aybar figures to receive most of the starts at third base in Longoria's place.
Advice: If you own Longoria, place him on DL or keep him on bench until further notice.
Looking for a Longoria replacement? Why not try…
Kevin Kouzmanoff, San Diego Padres: Featured as one of our 2nd half sleepers, Kouzmanoff is batting .309 with 5 homers and 21 RBI in 94 at-bats since the All-Star Break. If he is available, pick him up. If your league still allows trading this late in the year, try to trade for cheap without giving up key players.
Comments
comments