Fantasy Baseball Two Start Pitchers Week 20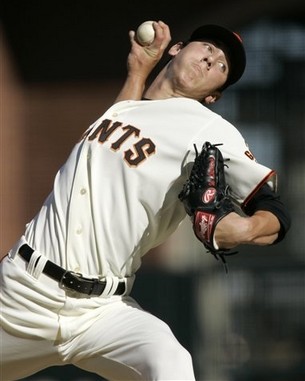 Quality starting pitching is essential to winning in fantasy baseball. If you have a pitcher that hasn't been carrying their weight, consider adding one of these two start pitchers who will make two starts in Week 20.
If the pitcher you consider isn't at the top of the rankings, there's often a chance he'll throw at least one good game out of the two he is probable to start. Worst case, a pitcher with two starts will generally keep a lower ERA and bring in more strikeouts, which could save owners in weekly head-to-head matchups.
Tim Lincecum of the San Francisco Giants, who is 12-3 with a 2.68 ERA, 175 strikeouts, and a 1.23 WHIP in 157.7 innings, tops our list of two-start fantasy baseball pitchers in Week 20. He takes the mound Tuesday at Houston against Roy Oswalt, then Sunday at Atlanta against Chuck James. Other "must starts" in Week 20 include:
Scott Kazmir, Tampa Bay Rays (8-5, 3.20, 114, 1.26) May Pitcher of the Month
Edinson Volquez, Cincinnati Reds (13-5, 2.93, 141, 1.33) FBD All-Star
John Danks, Chicago White Sox (9-4, 3.21, 112, 1.21) Week 3 Pitcher of the Week
Mike Mussina, New York Yankees (15-7, 3.27, 96, 1.20)
A.J. Burnett, Toronto Blue Jays (14-9, 4.62, 159, 1.44)
The Sunday Special – A two-start pitcher who will impress you with their starts in Week 20:
Anibal Sanchez, Florida Marlins (1-1, 4.22, 6, 1.50). The 24-year old Sanchez has only logged 10.7 innings in two starts this season. He returned from the DL August 1 after battling a shoulder injury for 15 months. Sanchez won 10 games as a rookie in 2006, and makes a great sleeper starting pitcher down the stretch as the Marlins try to catch the Phillies and the Mets in the NL East. Remember, besides winning 10 games in '06, Sanchez also threw a no-hitter September 6 against the Arizona Diamondbacks. In his last full season of work (2006), Anibal went 10-3 with a 2.83 ERA, 72 strikeouts, and a 1.19 WHIP in 114.3 innings. He takes the mound Monday against St. Louis and Joel Pineiro, then Saturday against the Cubs and Ryan Dempster.
Waiver Wire Wonder – A two-start pitcher owned in around 40% of leagues to consider in Week 20:
Jeff Karstens, Pittsburgh Pirates (2-0, 0.00, 6, 0.80). Karstens was the pitching gem involved in the Pirates-Yankees trade that sent Xavier Nady and Damaso Marte from the Bucs to the Yanks. In 15 innings of Major League work with the Pirates, Karstens has made the trade look closer to square. Karstens, similar to Zach Duke in 2005, is a great sleeper pick pitching well for the Pirates down the stretch. While he might not be as dominant as Duke was in the second half of 2005, keep an eye on Karstens. He has two tough pitching matchups in week 20, but until National League scouts get a solid scouting report on him, Karstens is an attractive sleeper option. He takes the mound Tuesday versus Cincinnati and Edinson Volquez, then Sunday against the New York Mets and Johan Santana.
Comments
comments