Lowell's Injury Hurts Fantasy Baseball Stats
Mike Lowell is playing through a lot of pain right now, and although the Red Sox won't admit it, its definitely hurting his performance.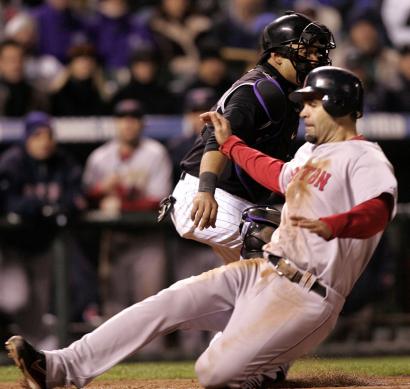 On July 13, Lowell was hitting .301 and many Boston fans were disappointed by his all star snub.  In the past 19 games, Lowell is hitting just .161 and his season batting average is down to .270.
Lowell has a right hip condition that is genetic and it won't get any better until it gets an extended rest after the season is over.  Lowell has been taking anti-inflammatory medicines for five weeks now to help a condition that has been made worse by bone spurs.  On August 1, it was so sore that he sat out the Sox game against Oakland.  And, on August 4, Lowell received a cortisone shot and missed a game with the Royals.
"Michael is playing in a lot of pain," said catcher Jason Varitek.
That's an understatement about a tough player who came back in three months after being diagnosed with testicular cancer during the 1999 season while with the Marlins.
Manager Terry Francona still has faith in his hard-nosed third baseman from Puerto Rico.  Doctors told Francona that "you're really not going to make it worse.  It just hurts."  Francona, however, remains confident in Lowell.  "He's going to get real hot."
Fantasy Baseball Dugout Tip:  It's time to move Lowell down to your minor league roster and pickup another
third sacker.  There's simply too many other good third basemen in the league to keep waiting for Lowell to get hot again.
Francona needs to rest him as well.  Veteran Sean Casey has been filling in at first base while Kevin Youkilis has shifted over to third.  Casey, 34, doesn't have the power that he had when he hit 20+ homers for the Reds in '99, '00, and '04, but he's hitting .351 this year and is a career .303 hitter.  Casey hit only four homers last year in 453 AB's with the Tigers and has no homers this year in 151 AB's.
Of course, despite the fact that Youkilis has played the majority of his career at third, you hate moving Youkilis from first base where he won the Gold Glove last year after sporting a perfect 1.000 fielding average–the first 1.000 fielding average over an entire season since Steve Garvey did it in 1984.
Comments
comments