College Football Fantasy
For more information on college fantasy football, please visit our newest website:
College Fantasy Coach

CBS Sports, apparently feeling bolder after the Supreme Court rejected MLB's attempt to garner revenues from fantasy baseball providers, has announced that it will offer a college football fantasy football game this season.
Players of video games have always thought it silly that they can play college football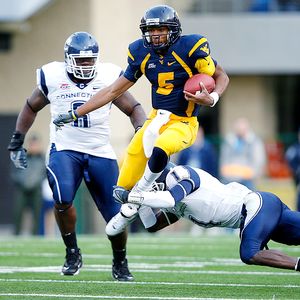 video games on PlayStation and the like and see # 5 for the West Virginia football team blowing by Big East defenses, but not being permitted to know for sure that this was Heisman candidate Pat White. CBS Sports is changing all that.
The new CBS Sports fantasy college football game will use the actual names and statistics of college athletes for the upcoming 2008 season.
In the past, CBS Sports had offered a college football game, but it never really caught on with fantasy sports players. It's probably because most college football fans have loyalty to their regional team and while they may know the teams in their conference, it's difficult to keep up with all 120 Division-1 gridiron squads. Real quick, name the star running back for Marshall who made the Conference-USA all freshman team last year (should be an easy one to remember: Darius Marshall).
In addition, the players change every four years and there's 11-12 games rather than the NFL's 16 games plus 4-5 preseason games that nobody cares about. Certainly, it's much easier to know the players on the 30 NFL teams. You've been watching them longer and they were standouts for four years in college. The mere universe of players available to a fantasy college football team is daunting, even if you have the ESPN GamePlan package.
But, perhaps the most important reason why fantasy college football never caught on in the past was because of the lame way that the players were presented. Instead of saying that it was Missouri's star QB Chase Daniel, the games were forced to say Missouri quarterback # 10.
The Supreme Court's decision to not hear Major League Baseball's case on June 2 involving fantasy baseball led to this change by CBS Sports. Essentially, the Supreme Court said that a sports league or entity does not own the rights to statistics and names of players are part of the public domain.
Now, you'd think the NCAA would have to get involved, wouldn't you? I mean, they
stuck their noses into banning the ability for college prospects to get text messages from coaches. Surprisingly, NCAA spokesman Bob Williams did remind CBS Sports that it prohibits the use of player likenesses in the game, but that for now the NCAA does not intend to stand in the way of the fantasy college football game.
That's great news from the NCAA, but I'm not sure we've heard the last from them on this issue. In the mean time, get your preseason college football guide books and consider picking up West Virginia running back Noel Devine as well as Pat White.
Comments
comments