Fantasy Baseball Two-Start Pitchers Week 14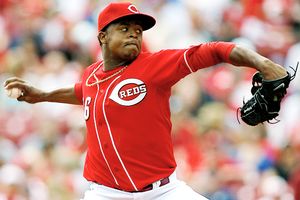 Quality starting pitching is essential to winning in fantasy baseball. If you have a pitcher that hasn't been carrying their weight, consider adding a starting pitcher who will make two starts in Week 14.
If the pitcher you consider isn't at the top of the rankings, there's often a chance he'll throw at least one good game out of the two he is probable to start. Worst case, a pitcher with two starts will generally keep a lower ERA and bring in more strikeouts, which could save owners in weekly head-to-head matchups.
Edinson Volquez of the Cincinnati Reds, an FBD All-Star and 10-3 with a 2.08 ERA, 110 strikeouts, and a 1.21 WHIP in 99.3 innings, tops our list of two-start fantasy baseball pitchers in Week 14. He takes the mound Tuesday at home against the Pittsburgh Pirates and Zach Duke, then Sunday at home against the Washington Nationals and Collin Balestar. Other "must starts" in Week 14 include:
Roy Halladay, Toronto Blue Jays (8-6, 3.12, 100, 1.09) FBD All-Star / Week 5 Pitcher of the Week
Gavin Floyd, Chicago White Sox (8-4, 3.39, 57, 1.12) FBD Week 10 Pitcher of the Week
John Danks, Chicago White Sox (5-4, 2.62, 69, 1.23) FBD Week 3 Pitcher of the Week
Rich Harden, Oakland Athletics (5-0, 2.15, 83, 1.09)
Ted Lilly, Chicago Cubs (8-5, 4.74, 95, 1.32)
John Maine, New York Mets (8-5, 3.73, 79, 1.31)
The Sunday Special – Two two-start pitchers that should impress you with their performances in Week 14:
Kyle Lohse, St. Louis Cardinals (9-2, 3.94, 46, 1.29). We recommended Lohse back in Week 4, and 10 weeks later we're still on his bandwagon (apparently though, you guys haven't caught on). Sometimes we do know what we're talking about, and Lohse has made us look pretty good. He hasn't lost a game since May 8, and won six in a row before logging a no decision 6/25 on the road versus the Tigers. His ERA has dropped from 4.87 to 3.94 since 5/8. He doesn't log many strikeouts, but most guys available in around 40% of leagues aren't strikeout machines. Lohse takes the mound Monday at home against the New York Mets and John Maine, then Saturday at home against the rival Cubs and Ted Lilly.
Justin Masterson, Boston Red Sox (4-1, 3.43, 32, 1.19). We overlooked Masterson's call to the rotation earlier this month in the midst of the Clayton Kershaw debut and Joba Chamberlain's call to the rotation. He made starts in April and May before joining the rotation full time June 3. His ERA continues to rise, but that happens to young pitchers after their scouting report makes the rounds. While he doesn't have a high strikeout rate, Masterson did strike out 9 against the Reds on June 13. We like him Monday on the road against Tampa Bay and James Shields, then Saturday at Yankee stadium against FBD's favorite Cornhusker, Joba Chamberlain.
Waiver Wire Wonder – A two-start pitcher owned in less than 40% of leagues to consider in Week 14:
Eric Stults, Los Angeles Dodgers (2-0, 0.60, 8, 0.80). Another pitcher FBD overlooked while the entire fantasy baseball community drooled over Clayton Kershaw was his teammate, Stults. The 28-year old lefty has made starts for the Dodgers over the past two seasons, but caught our eye when he threw a complete game shutout against the Chicago White Sox on Wednesday. He gave up four-hits, one walk and struck out three. Three runs were scored against the Dodgers in Stults' first start of the season, but only one was earned. Stults is a high-risk/high-reward pick when compared to pitchers like Lohse or Masterson, but that's why he's still available in nearly 70% of leagues. He takes the mound Monday on the road against the Astros and Roy Oswalt, then Saturday against the Giants and Barry Zito.
Comments
comments