Fantasy Baseball Two-Start Pitchers Week 11
Quality starting pitching is essential to winning in fantasy baseball. If you have a pitcher that hasn't been carrying their weight, consider adding one of these two start pitchers who will make two starts in week 11.
If the pitcher you consider isn't at the top of the rankings, there's often a chance he'll throw at least one good game out of the two he is probable to start. Worst case, a pitcher with two starts will generally keep a lower ERA and bring in more strikeouts, which could save owners in weekly head-to-head matchups.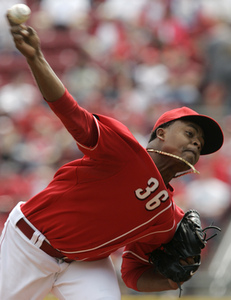 Edinson Volquez of the Cincinnati Reds, who is 8-2 with a 1.32 ERA, 91 strikeouts, and a 1.16 WHIP in 75 innings, tops our list of two-start fantasy baseball pitchers in Week 11. He takes the mound Monday on the road against the Florida Marlins and Mark Hendrickson, then Saturday at home against the Boston Red Sox and Justin Masterson. Other "must starts" in Week 11 include:
Cliff Lee, Cleveland Indians (9-1, 2.45, 65, 1.04) FBD April Pitcher of the Month
Joe Saunders, Anaheim Angels (9-2, 2.63, 39, 1.09)
Josh Beckett, Boston Red Sox (6-4, 4.07, 80, 1.10)
Randy Johnson, Arizona Diamondbacks (4-2, 3.38, 64, 1.28)
C.C. Sabathia, Cleveland Indians (3-8, 4.81, 82, 1.43) FBD Week 4 Pitcher of the Week
The Sunday Special – Two two-start pitchers that should impress you with their performances in Week 11:
Jesse Litsch, Toronto Blue Jays (7-2, 3.46, 38, 1.24). Litsch is the fifth starter in the Blue Jays rotation, but has more wins than every starter except staff ace Roy Halladay. In addition, his ERA is third among the team's starters and he carried an 18-inning scoreless streak that was snapped this past Wednesday against the Yankees. Monday's home start against the disappointing Seattle Mariners and Jarrod Washburn should be close to an guaranteed victory. Litsch's second start is scheduled for Sunday against Ted Lilly and the Chicago Cubs in Toronto.
John Danks, Chicago White Sox (4-4, 2.88, 51, 1.22). Danks pitched well enough with two starts in fantasy week 3 to earn Pitcher of the Week honors. Matchups in important in two-start pitcher recommendations, and fantasy owners will love Danks' in Week 11 – Monday at home against Minnesota and Glen Perkins, Saturday at home against Colorado and Jorge De La Rosa. He got rocked by Minnesota early in the season, but only gave up two earned runs over five innings and struck out five on May 8 against the Twins. Although Danks' won/loss record isn't great, his value in fantasy baseball continues to climb – he hasn't given up more than three earned runs or three walks in any of his last seven starts.
Waiver Wire Wonder – A two-start pitcher owned in less than 40% of leagues to consider in Week 11:
Paul Maholm, Pittsburgh Pirates (4-5, 4.48, 51, 1.39). Pitchers like Maholm generally frustrate fantasy baseball owners, because their potential always outweighs their actual performance. This season is really no different for Maholm, but as previously stated, matchups in fantasy baseball are very important. Maholm takes the mound first on Tuesday at home against the Washington Nationals and Tim Redding, then Sunday on the road at Baltimore against Daniel Cabrera. While FBD wouldn't recommend Maholm under regular circumstances in fantasy baseball, how can we bet against him for two-starts with low runs earned and at least one victory when the takes the mound against the Nats and O's?
Comments
comments