Fantasy Baseball Tip: Pick Oakland Pitchers
The Oakland A's have always been known for being competitive with a small market payroll thanks to an outstanding pitching staff.
Imagine who has come and gone from a dazzling staff that once included Barry Zito (Giants), Tim Hudson (Braves), Mark Mulder (Cardinals), Rich Harden, and Ted Lilly (Cubs). Manager Billy Beane even traded Dan Haren last year to the Arizona Snakes. Of those sensational six, only Harden remains with the A's and he has struggled with injuries both last year and this season.
Harden did pitch in a rehab game on Tuesday for the Stockton Ports and was dominant.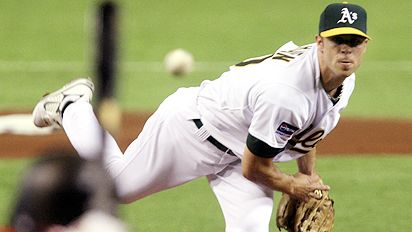 His return to the Oakland starting rotation will move Chad Gaudin into the bullpen, said A's manager Bob Geren.
Of the rest, Hudson is having another solid year at 5-2, 2.90, Lilly is off to a slow start at 3-4, 5.24, but had a good season last year for Chicago. Mulder, attempting to make a comeback from a rotator cuff injury, has been pitching for the Memphis Redbirds and has a massive 13.03 ERA in his two Triple-A starts. And, we all know what has happened to the very wealthy Barry Zito this year.
But, as the names may have changed, the results have remained the same.
Rookie Greg Smith, the talented pitcher obtained in the deal that sent Haren to the D-
Backs, is making the major league minimum, but has posted a 2-2 record , 3.00 ERA, and 1.05 WHIP in his first seven major league starts. The ex-LSU Tiger southpaw, 24, is holding left handed hitters to an enemic .163 batting average.
Then, there's Dana Eveland. The 6-0, 240 pound left-hander from Olympia,
Washington, is 3-2, 3.05 and a 1.28 WHIP in his first seven starts. Eveland is in his fourth MLB season having toiled for the Brewers and D-Backs in the past, but htis is the first time the College of the Canyons alum has enjoyed a regular spot in a major league rotation. Eveland's salary: $395,000.
Justin Duchscherer has made four early season starts for the A's. He's 3-1 with a 2.45
ERA and 1.14 WHIP. Suchscherer had a cup of coffee with the Rangers in '01 and has spent most of the past five seasons in the A's bullpen where he is 24-17 with a 3.37 ERA and 14 saves.
Joe Blanton holds down the other A's spot. Blanton, who Beane also tried to trade in the off-season, has had a solid year at 3.82, 1.40 WHIP, in nine starts, but has not received the support he needs as his record sits at 2-5. Blanton should come as no surprise to fantasy baseball managers given that he's averaged 14 wins over the past three seasons.
Pitching always seems to keep the A's in the hunt and currently they are 22-15 and tied for first place in American League West with the Los Angeles whose payroll is four times greater than the A's. Oakland's success has to be credited in part to the early season performances of Smith and Eveland.
But, if you're an Oakland A's fan, you better not get too attached to those two new starting pitchers.
Comments
comments