Why Don't Pitchers' Hitting Stats Count in Fantasy Baseball?
Micah Owings, of the Arizona Diamondbacks, isn't just a good hitter for a pitcher.  Micah
Owings is a good hitter. 
Micah Owings isn't just a starting pitcher.  Micah Owings is a pinch hitter too.
And a very dangerous one indeed.
But, as a fantasy baseball owner of the 6-5, 220 pound, Micah Owings, you don't benefit from his hitting prowess!  Even when he pinch hits!  That's about as silly as Paula
Abdul's performance last week on American Idol!
On Wednesday night, D-Backs manager Bob Melvin sent Owings up to the plate to pinch hit for fellow pitcher Brandon Medders in the sixth inning.  Melvin chose the right handed hitting Owings despite the fact that he still had switch hitter Augie Ojeda (12 HR's last year) and righty Chris Snyder (13 HR's last year) on the bench!  Owings delivered a two run homer off of Dave Borkowski's first pitch to propel the D-Backs to an 8-7 win to become the first 20 win team in the MLB this season.
This is not a one year fluke for Owings either.  Last year, his first in the bigs, he hit .333 (20-60) with seven doubles and four homeruns!  Add his 15 RBI's to that and he may have exceeded the stats of your backup catcher!
Back in the day when stats were done by hand, it could have been argued that adding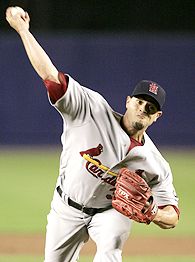 pitchers' hitting stats would have added ten hours to the league commissioner's time in compiling the league stats with no real impact on the bottom line stats.  But, with the advent of the internet, this is no longer a logical argument.  Sure, I know more pitchers look like Joel Pineiro (K'd 7 times in 8 AB's this season) and John Maine (.074 lifetime) than Owings, but it still should count!  Especially when he pinch hits!
The argument may also be made that adding pitchers' hitting stats would unfairly sway draft picks in favor of American League pitchers who won't damage your hitting average stats. 
Baloney.  It would help even the playing field.  American League pitchers are already at a tremendous disadvantage in combined leagues because they have to face a real ninth hitter.  For years, National League pitchers of equal ability have been taken ahead of American League pitchers due to the fact that it's just more difficult to be a pitcher in the junior circuit.
Owings may be getting most of the press now, but there's a few other NL pitchers who
know what to do with the stick.  Adam Wainwright of the Cardinals is hitting .316 this year and he hit .290 last year in 62 at bats and added three doubles and a dinger.  Jake Peavey of the Padres had two homers in 2006.  Carlos Zambrano of the Cubs is a lifetime .220 hitter in 431 at bats.  Zambrano has 13 career ya-ya's and hit six in the 2006 season alone!
Then there's Johan Santana.  The greatest pitcher in the game today never had more than eight at bats in his first eight seasons with the Twins.  He's 4 for 15 this year with three doubles. 
Go figure.
Pitchers' hitting stats should count.
 Fantasy Baseball Dugout welcomes conflicting viewpoints about BallparkBob's assertion that pitchers' hitting stats should be included in fantasy baseball stats.  It also welcomes comments about Paula Abdul's dress.  Please comment on this article below or send an email to webmaster at fantasybaseballdugout.com.
Comments
comments