Attention Fantasy Baseball Owners: Corpas Out, Fuentes In as Rockies Closer
It's not the first time manager Clint Hurdle has flip-flopped his closer and set up man.  He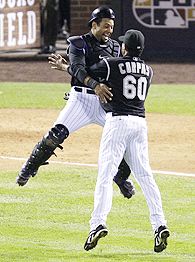 did it last year when Brian Fuentes was out and Manny Corpas was in.  Now, it's time for another reversal of roles only this time its Corpas who will be pitching the eighth inning.
Manny Corpas has blown 4 of his 8 save opportunties this season for the Rockies.  In 11 appearances, the Panamanian has a 7.50 ERA and has been tagged with one loss.  His velocity is down and his location is suspect–neither good things for any major league hurler.  Some in the Rockies' organization wonder if Corpas' early season struggles have anything to do with his having not pitched in winter ball this year; this is the first time that Corpas has not thrown in the off season.
 Enter Brian Fuentes.  Fuentes, who has been an all star the past three seasons, is 2.25 with one save on the season.  Fuentes knows how Corpas feels because usually jovial skipper Hurdle did the same thing to him last year after the Rockies returned from a 1-9 road trip that saw the southpaw Fuentes blow four straight saves.  Fuentes ailments ultimately put him on the disabled list and gave the job to Corpas.
Corpas excelled for the resurgent Rockies last year.  He converted 17 of 20 saves and 5 of 6 in the postseason.  Included in Corpas' domination was three straight saves over the Phillies in the NLDS. 
At this point, however, you may want to quickly unload Corpas or seek Fuentes on the waiver wire if he's available in a small league.  For now, Manny Corpas will be racking up holds, but very few saves.
Comments
comments