5 Fantasy Hitters Whose Stats May Decrease Due to Ballpark Changes
Yesterday, Fantasy Baseball Dugout wrote about the effect that a home ballpark can have on hitting statistics.  FBN also suggested ten players who may have better seasons based on their new confines.
Today, FBN takes a look at five hitters whose power numbers may fall off since being traded to less hitter-friendly parks.
 1.  Troy Glaus (St. Louis) — Glaus will hit cleanup for the Cardinals after being acquired in the trade that sent Scott Rolen and David Eckstein to the Blue Jays.  Glaus hit 20 homers last year in an abbreviated season that saw him get just 385 AB's.  His career  highlights were in 2000-01 when he hit 47 and 41 round trippers.  A lot of hitters have struggled in St. Louis and Glaus, now 31, may not put up the numbers he has in the past.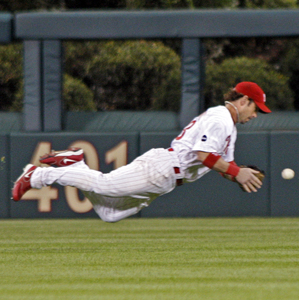 2.  Aaron Rowand (San Francisco) — The outlook for the Giants this year is not good as they seem to be a team without much direction.  We all Rowand as the gritty center fielder who crashed into the fence in Philly two years ago.  He'll be hitting in front of third baseman Rich Aurilia who had five homers last year in an aging Giants lineup that is a sure bet for last place.  Expect Rowand's stats to come crashing down this year.
3.  Johnny Estrada — Estrada was acquired by the Nationals recently for a team that appears to have too many catchers.  Sure, Paul LoDuca, slated to be the starter, is still out with an injury, but remember that Estrada is also still recovering from a right elbow injury.  There's also Jesus Flores who got most of the playing last year down the stretch.  Estrada's only saving grace may be that he's a switch hitter versus the right handed swinging LoDuca and Flores.
4.  Darin Erstad (Houston) — Erstad may be about cooked.  He hit .248 last year with
four homers last year and just .221 the year before.  That's a far cry from when the now 33-year-old Erstad slugged 25 homeruns for the Angels in 2000.  Besides, he's got two youngsters in front of him, Hunter Pence and Michael Bourn, plus $100 million man Carlos Lee.  Look for Erstad to be the left-hander coming off the bench for a pinch hit and be limited to no more than 150 AB's this season.
5.  Delmon Young (Minnesota) — Actually, FBD predicts a better year for Young in 2008 than he had in 2007.  He's just too young and has too much talent to go anywhere but up.  Besides, players like him have flourished in the past in Minnesota and Young will as well.  Expect him to be a major free agent in the future ala Torii Hunter.  So, why is he on the list then?  Well, the reason is that he's moving from hitter friendly Tropicana Field to the Metrodome.  Make your own decision, but BallparkBob is one who is going to have Young on his draft radar.
Comments
comments